No matter if you are an android user or an iPhone user, if you want to earn cash daily from mobile apps then you are in the right place.
The Internet and play store is full of money-making apps but most of them are scams and don't work. After extensive research and trying them, here are the top 10 self-learning apps for you to try.
10 daily cash apps for you
It's time to use your smartphone to earn some cash. Here is the list of apps to do it:-
1. SwagBucks
This app has always been on the top of the daily money-making app segment. It is one of the oldest ways to earn money no matter where you are.
After Signing up, you will have the option to give surveys and earn SB points. You can also provide your review of a coffee shop or store in your area. It is a 100% reliable app and has more than half a million downloads in PlayStore.
You can redeem your SB anytime for $5 – $25 gift cards for Amazon, PayPal, Target, Starbucks, and more.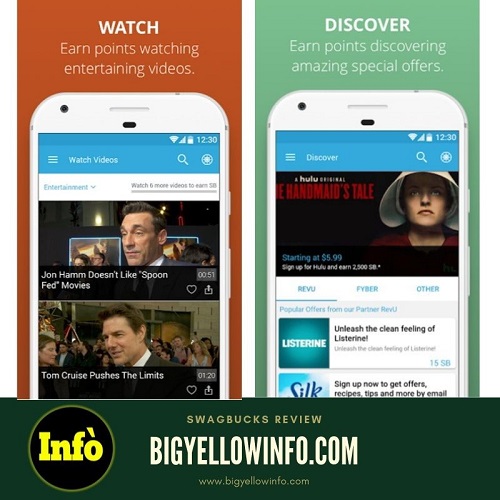 My opinion: Easy way to earn money and vouchers for shopping. Must try. With only 2,3 hours, you can make 1000 Rs daily.
Make a free account on Swagbucks here
2. Foap – sell your photos
If you have a passion for photography and you click lots of amazing pictures from your smartphone then it's time for you to start making money off it.
Foap – sell your photos money earning app
Yes, You heard it right. It is a place where you can post your clicked photos and companies and media agencies will buy them.
Lots of events take place on those apps too, giving its users some topics for the pictures. For example; Night near the river, Wind on the farm, etc.
The winner earns up to $ 2,000 for their photographs.
It's a total legal app and if you have an interest in photography, you should try it. The payment is done by Paypal.
3. Google Opinion Rewards
This app is from Google and it gives you reward points for performing surveys.
Google Opinion Awards Review
Don't worry, we tried this app and its surveys, and they are not as big and complicated as other apps.
The User Interface is very good and smooth (it sure has to be, Google has made this app). Therefore you can complete the whole survey within a minute just by the press of your thumb.
Every 1-minute survey can pay you from 25 cents to $1.
My opinion: recently it has become less popular because of no survey available for a long time
Download link for Android
4. App Trailers
Have you seen any unboxing or review videos on YouTube lately? Well, at some point you must have thought that even you can earn money by giving your reviews.
AppTrailer App
In this app, you watch the hottest high-quality streaming videos of new Apps in Google play and then give your reviews about them. According to its official statement:- " It is the only place you can see a movie preview of an App or other awesome web videos and get rewarded for it. "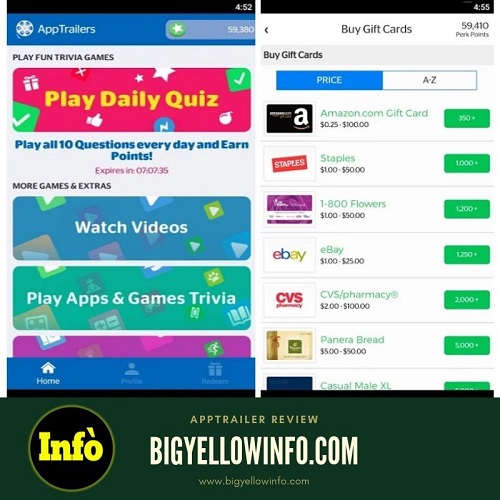 You can redeem your reward points with PayPal cash, and Amazon gift codes.
Download link for Android / Download link for iOS
5. Roz Dhan: Earn Money, Read News, and Play Games
It is an Indian-made app that pays in PayTm cash.
According to its description in Playstore "
Roz Dhan is the Best Earning App which also provides entertaining and Daily News content. Earn Money by Sign up, Inviting Friends, Reading and Sharing News, Playing Games, using the App daily, and many more "
This Money Earning App gives you Rs 50 on sign-up. You can also Play and win Free Paytm Cash. Roz Dhan is one of the top Online Money Income Apps which entertains with 12+ categories while you Earn Paytm Cash Daily.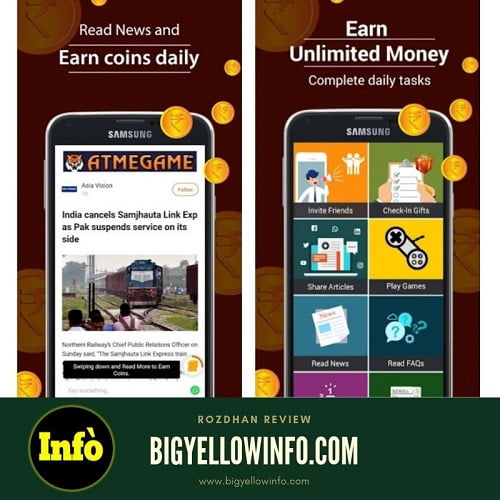 Besides the daily cash app, you can earn money by copy-pasting jobs. It's easy to understand and doesn't need any investment. Read here.
How to earn money online by copy paste job in 2020
If you are hearing a lot of PayPal and want to earn money through it, Read this:- Free PayPal money earning 9 Best ways in 2020
6. StepBet: Get Active & Stay Fit
What if we say that there is an app that will keep you fit and will pay you for that. Sounds strange, right?
StepBet App Review
How this app works:-
After downloading and signing up, you will get a customized Step target. After that, you'll bet on yourself to achieve that target.
The procedure is
Download the StepBet application from PlayStore
Choose your health device (Fitbit, Google Fit,
Samsung Health, etc.) to get your personalized Goals.
Find a game, and place a bet into the game's pot to join it.
Walk, exercise, and remain active to hit your target.
Complete the target and win your money.
Frankly speaking, the idea is very fresh and different. And if you like keeping yourself fit and earning money alongside, go try it
7. U Speak We Pay
Talking or speaking can also pay you and you can do it from your bedroom. The name of the app says it all.
This app has more than 500,000 thousand downloads in the play store and a 4-star overall rating. Here is how it works:-
Download and Install the application.
Pick the language you are comfortable in.
The sentences will appear on the screen. Press the record button and read it out loud.
press again on the same button to stop recording.
It is one of the easiest ways to earn money. But you should be careful about the quality of your recording. Your payment will be decided upon it. Do it in a quiet room with minimum background noise.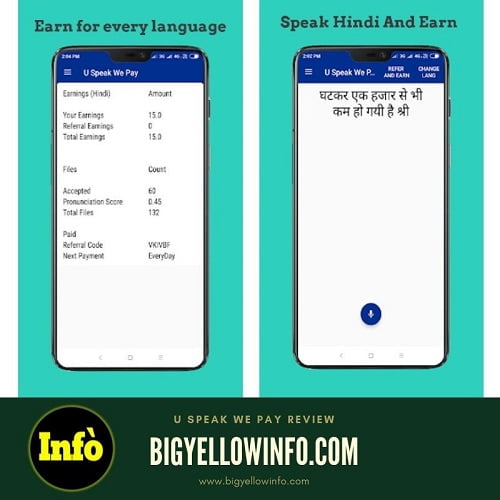 You can also earn money by flipping phones.
It means buying someone else phone and selling it at higher prices. This market is trending right now because people are upgrading their phones within a year or two.
You can also sell your old phones to Cashify and get big discounts on the new phone. Read the article here